Institute XVI- 4th Cohort Leadership Program
(17-30 March, 2022)
From 17th to 30th March, the 4th cohort leadership meeting took place in LTWA, Dharamsala. The 4th cohort's spring meeting featured rigorous classes on neuroscience, videography, English writing, and a special virtual session with experts from various places. From 17th March to 23rd march, neuroscience classes were taken by Dr. Bitto. He did his PhD in Neuroscience from Harvard University. The participants were provided with access to experiential learning, discussions and demonstration on neuroscience. Post-lunch sessions were conducted by renowned Tibetan independent filmmaker Mr. Sonam Tseten, based in Dharamsala. The class learned about pre-production methods, video production, and post-production, including video editing, camera angles, types of light sources, camera setup, and story-building for their videos. Participants had enriched learning experiences and interactions through Mr. Tseten's expertise in videography.
From 24th to 30th March, the participants had a series of virtual talks with experts about the benefits of learning science as a Buddhist practitioner. They shared their experiences and expertise in advantages of learning science by Buddhist practitioners. The virtual talk were presided over by series of guest speakers from different places. The speakers were Geshe Lhakdor, Geshe Thupten Jinpa, Tenzin Priyadarshi and Mr. B. Alan Wallace. The virtual talks provided a valuable opportunity for participants to learn from experts in the field and deepen their understanding of the intersection between Buddhism and science.
Post lunch, the session began from 2 p.m. to 5 p.m., with a tea break in between. Mr Bhuchung D Sonam, an accomplished poet and writer, has taught English writing. The class engaged in reading poetry and stories that were carefully selected to reinforce their comprehension skills. Overall, this session was a fantastic opportunity for participants to learn from an expert and hone their writing skills.
---
About the teachers: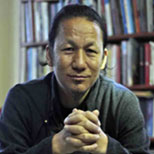 Bhuchung D. Sonam
Bhuchung D. Sonam is a poet and author who was born in Tibet. He studied at Tibetan Children's Village School in exile, which was located in the small Indian town of Dharamsala. He completed his further studies from St. Xavier' College, Ahmedabad, and later in the US. He edited Muses in Exile: An Anthology of Tibetan Poetry and published three volumes of poetry books. 2012 saw the release of his book, Yak Horns: Reflections on Modern Tibetan Literature, Music, Cinema, and Politics. Bhuchung is a founding member of TibetWrites, a group of writers that disseminates Tibetan writers' works.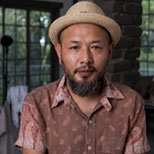 Sonam Tseten
Sonam Tseten is a Tibetan Filmmaker based in Dharamsala, India. Born in Tibet Sonam went into exile as a young kid and grew up in India among the Tibetan refugee community. Sonam has made several mid-length and feature length films including Tsampa to Pizza, Girl from China and most recently Pawo co-directed with German filmmaker Marvin Litwak. His films mostly deal with the stories of separation, reunion and exilic experiences.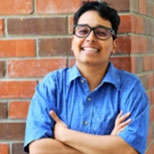 Bittu K Rajaraman
Bittu K Rajaraman is an Associate Professor of Biology and Psychology at Ashoka University. They received a PhD from Harvard University in neuroscience, and went on to become a DST-Kothari postdoctoral fellow at the Center for Ecological Sciences, Indian Institute of Science, and then an INSPIRE Faculty Fellow at the Central University of Hyderabad. They work on the evolution of neural and behavioural systems of communication, the neuroethology of temporal pattern recognition in insects, and quantitative and economic cognition more broadly in zebrafish, dogs and humans.
---