Although mindfulness is the most familiar form of meditation practice, especially in the West, it represents a small fraction of the meditation practices that derive from Buddhism. At many Buddhist monasteries and nunneries, the primary form of meditative practice is known as debate, a form of analytical meditation involving two or more monastics who undertake a debate on a topic within canonical Buddhist philosophy.
Publications:
Mindfulness (2020)
"Inter-brain Synchronization in the Practice of Tibetan Monastic Debate."
Progress in Brain Research (2019)
"Tibetan Buddhist Monastic Debate: Psychological and Neuroscientific Analysis of a Reasoning-Based Analytical Meditation Practice."
---
Recent Research Visits: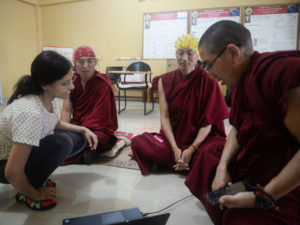 Monastic Debate Study at Sera Jey Expands to Sera Mey – Visit #7
(August 7 to 21, 2019)
During this research visit, the team of monastic investigators expanded to include monks from Sera Mey Monastery. The team collected EEG data for approximately 70 new debates. Half of these debates were on a topic considered easy, and the other half were on a difficult topic. To help address the question of how debate is different from meditation, we asked the monks to perform a single-pointed meditation (focused attention meditation) on the statue of Buddha for five minutes before the debate, and an analytical meditation reflecting on the debate at the end. A new rating system for the EEG study was also field tested. For example, the new rating system includes prompts for the standard debate answers such as "yes", "why", and "no pervasion," and includes ratings for emotions such as aggression and laughter. We also began to look at the effects of debate on youth, and tested 6 pairs of teenage monks from the Sera Jey secondary school who follow a modern education but also learn to debate (4 times a week for 1 hour).
---
More On Debate
Debate at Sera Jey Monastic University:
In its simplest form, debate consists of an interaction between a sitting defender, who is held to consistency of their assertions, and the standing challenger, who challenges the statements of the defender. Debate serves as a core pedagogical technique that supports the development of intellect as well as affords guidance along their inner spiritual path. Successful debating requires skills that may include reasoning and critical thinking, attentional focus, working memory, emotion regulation, and ability to simulate the thinking of the other debater. It is therefore likely that the many cumulative thousands of hours of debate practice over 20-plus years of monastic training helps to cultivate the intellectual nimbleness to look at topics from many different angles.
To date, the burgeoning literature on contemplative practices is almost exclusively restricted to the study of concentrative and awareness meditation practices (e.g., mindfulness). Comparatively less scientific research has been conducted to determine whether and how monastic debate contributes to the intellectual, cognitive, social and emotional functioning of monastics and what core cognitive and affective processes are engaged and developed through the practice.
Possible Impact