Science centers are dedicated spaces driven by small teams at monasteries or nunneries. Science centers create opportunities for younger monastics to learn science along with their monastic studies. Science centers can be much more than a place for attending a science class. For monastic science leaders, they are seedbeds where they nurture strong and cost-effective ideas for creative projects. They are vibrant spaces for learning and research.
How We Support These Centers
Mentorship Visits
Coach small groups of monastics at specific science centers that are often aimed at helping the monastic team develop and activate their space. (more..)
Science Center Grants
Small grants to individual centers encourage creative projects that extend the reach of the center, projects that integrate modern science and/or technology with Buddhist knowledge. (more..)
Research Collaborations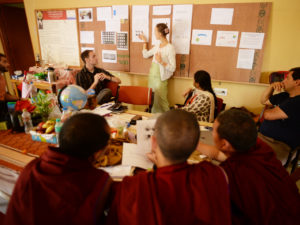 Research collaborations position specific groups of monks and nuns as co-investigators in scientific inquiry. (more..)
---
Teacher Fellowship Program
Empowering a first cohort of 8 active science and math teachers to become primary agents of educational improvement. (more..)
Our Leadership Programs
Training monks and nuns to be critical consumers of science education, leaders of the monastic science centers, and active participants in the communities expanding relationship with science. (more..)
---
A monastic science center is a community space in a monastery or nunnery. It serves as a central hub for monastics to learn science and further discourse with science. Each center is meant to be a place rich in authentic science. These centers are building their capacity to launch thoughtful activities that better engage their community and their values with the global world.
Current Centers and Science Programs:
Dharamsala
Sager Science Center, Library of Tibetan Works & Archives
Dolmaling Nunnery
Geden Choeling Nunnery
Jamyang Choeling Nunnery
Kinnaur
Jamseling Nunnery
Solan
Menri Monastery
Mundgod
Gaden Jantse Science Center
Gaden Shartse Science Center
Drepung Gomang Science Center
Drepung Loseling Science Center
Jangchup Choeling Nunnery
Hunsur
Dzongzar Choede Science Center
Byalkuppe
Sera Jey Science Center
Sera Mey Science Center
Tashi Lhunpo Science Center