Teacher Coaching
Working with active science teachers at the monasteries and nunneries, helping them reflect on and advance their classroom practice.
Outreach
Modeling and guiding outreach programs and outreach activities, such as exhibitions, small festivals, and dialogues.
Center Development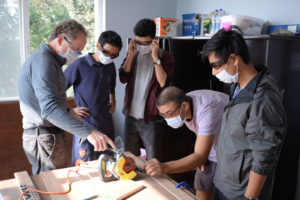 Working with center directors to develop the physical space and identify resources and equipment.
---
Recent Mentorship Visits:
(December 18 to 25, 2019)
At the Gaden Jangtse Science Center, three senior astronomy teachers, Linda Shore, Vivian White, and Alejandra Leon-Phillips, provided comprehensive training to prepare nuns and monks from the Mungod settlement to create a community engagement festival during the annular solar eclipse.
(December 1 to 8, 2019)
A one-week mentorship visit focused on supporting the leaders and science students (nuns) at the new science center at Jangchup Choelling Nunnery, Mundgod. Although these nuns have had opportunities to attend several science workshops, they remarked that it was rare for a Western scientist to stay with them at their nunnery. A goal of the visit was to see if the nuns were excited about ethics in science. We found many of them were interested in contributing and participating in a future research study. The visit and training was led by Dr. Laura Specker Sullivan, who introduced ethics in science, genetics, and reproduction technology, as well as disorders of consciousness. The  participating nuns conducted preliminary interviews with other nuns about their views on ethics in science. This visit also helped the nuns re-imagine their science classroom, and led to the purchase of a new projector, screen and printer for students and teachers.
(November 17 to 25, 2019)
Staff of the Drepung Gomang science center and 25 monk science students worked with two teacher-trainers from Timor-Leste to prepare for an exhibition that will take place during the Dalai Lama's visit the following month (December). The two teacher-trainers, Caetano and Olindino, shared dozens of new hands-on activities and pedagogical strategies to support the exhibition team.
---
Photo Album